In the past, hospital reputation management mainly focused on word of mouth rather than online presence. But times are changing.
Today, online reputation is one of the key elements for success in the healthcare industry.
In fact, according to the 2017 Local Consumer Review Survey by Bright Local, out of 26 industries, healthcare was the third most popular industry for consumers to read reviews. It was only surpassed by restaurants and hotels.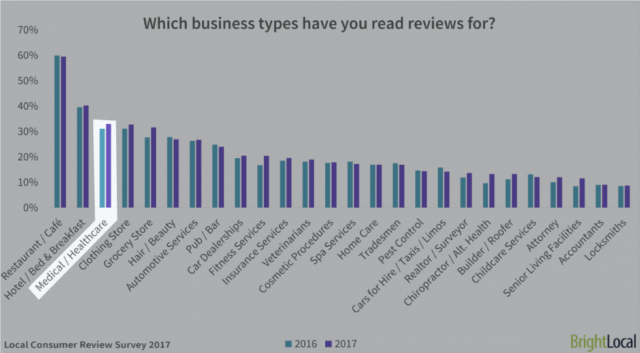 The Internet is the first place consumers look for information on a business. And you'll notice reviews are now served up as a side dish to search results.
Patients don't even need to be review hunting to see your star rating across several platforms in a matter of seconds.
Building a hospital reputation management strategy is essential no matter your current ratings. Reputable rating sites, such as Google, Facebook, ZocDoc, HealthGrades, Vitals, Yelp, and many others have become major factors in patients' impression of a hospital as well as their decision on where to go for care.
There is a strong demand for an online platform, specifically for healthcare, to track and analyze patient experience both offline and through reviews. This data is a powerful tool to improve the overall patient experience, improve reputation, and generate more revenue.
Learn how MedRev can help you improve your reputation, patient experience, and quality of care
---
Online Reputation Management for Hospitals
: Virtual First Impressions & Patient Satisfaction
Patient satisfaction is the backbone of online reputation management for hospitals. High patient satisfaction doesn't just mean better online ratings, it leads to better clinical outcomes.


Reputation influences patients before they walk in the door.
In many cases, the doctor's online reputation does more than influence patients in their decision on who to go to for their healthcare needs. A physician's or hospital's reputation sets up a patient's initial perception of the quality of treatment they will receive.
The online reputation of a hospital or doctor often serves as a patient's first impression of the business, which sets the stage for a positive or negative opinion before they have ever set foot in the building.
Online reputation extends far beyond any individual patient.
A single satisfied patient will, on average, share their experience with four others, while a single unsatisfied customer will tell nine or more people about their frustrations.


Hospital reputation management extends well beyond the reach of the individual. The experience of each patient has an effect on how the business is perceived by the community. Public opinions become the basis for social proof, endorsements, and crowdsourcing. Public feedback, regardless of the accuracy, remains available for anyone to view, which is another great incentive for maintaining a good online reputation.
It's not just about generating new patients.
When it comes to personal experience, patient satisfaction doesn't depend solely on hospital quality, but how a patient feels about their visit. By paying attention to personal opinions and satisfaction scores you can do more than improve your reputation. You can then determine areas of improvement that will lead, not only to gaining new patients, but also to keeping long-lasting relationships with existing patients.
---
No matter your method, the most effective way to get more online reviews and improve patient satisfaction is to monitor negative feedback privately and use the data to make meaningful changes to your processes.


Building internal processes and systems for your hospital reputation management is costly and time-consuming unless you have qualified staff in place already. The time it takes to hire, plan, build, implement, test, and assess data from an internal system is more than most hospitals are willing to invest.
Using a HIPAA compliant third-party software system created specifically for the healthcare industry with a designated US-based customer success manager is the most cost-effective and reliable way to ensure quality feedback collection and improved reputation without starting from scratch.
---
Patient Satisfaction in Hospitals: Improving Experiences and Retention Rates
Great experiences lead to satisfied patients and happy patients are more likely to choose you again the next time they need medical care.
The importance of online reviews in healthcare goes hand-in-hand with collecting patient feedback.


By reaching out to patients after their appointment to request their feedback, you are showing them that their opinion is highly valued.
The benefit is twofold, not only does requesting patient feedback through an automated text or email system like MedRev help ensure that patients know that their experience is important to you, it helps you gather some of the most crucial data to improve your hospital's operations.
How much do the opinions of others matter to patients?
A whole bunch.
Reputation is so powerful that patients are less affected by morbidity and mortality statistics than they are by personal stories of care.
Storytelling involves emotion-based medicine. Often, patients are not qualified enough to judge the technical aspects of their treatment, and their perception of quality depends on physicians' ability to meet their needs in a respectful way. Caring is an essential aspect of being a healthcare professional and a fundamental part of building a good hospital reputation.
---
Let's start with Retention.
A better patient experience is better for everyone and it leads to patients choosing your hospital for their future health care, and the medical needs of their family. Sticking with a medical provider that a patient has been to in the past is not only better for the patient, it's better for the provider.


How much does patient retention matter?
Here are some stats that sum it up:
Gaining a new patient is five times more costly than keeping an existing one.
In the USA, the loss of a single patient due to dissatisfaction equates to the loss of approximately $200,000 over the lifetime of the practice.
Patient retention is increased through improved patient satisfaction which is only possible to achieve if you understand and address each patient's view of their experience.
---
And what about the patient experience?
Patient Experience is About More Than Just Reviews
If you're just assessing online reviews, you're definitely not getting the full picture.
Hospital reputation management is not just about improving or getting more reviews or a higher average online star rating. It's about understanding and addressing the factors influencing each patient's positive or negative experience.
It's vital to collect and analyze patient feedback using consistent internal methods.
Do you have the data to determine what areas to improve?


Collecting Patient Experience Data to Improve
Patient Satisfaction in Hospitals
Patient satisfaction has become one of the main measurements for healthcare performance. And the first step to improving patient satisfaction in hospitals is to gather data about how patients felt about their visit.
For a hospital, that means implementing an automated process for collecting and compiling data about the patient experience on a large scale.
Collecting patient feedback internally means you can
Give patients a way to share their opinions offline.
Be proactive in showing your patients that you value their feedback.
Take action to respond to individual patients directly to resolve issues.
Analyze patients' perspectives on a large scale to help determine how to best meet their expectations.
The benefits are numerous and clear.
So, how are hospitals doing when it comes to patient satisfaction?
Not so good…
Out 3,500 US hospitals, only 251 received a 5-star patient satisfaction score.
That's less than 10%.


That's a problem that needs to be addressed!
---
A Good Hospital Reputation Management Plan Considers More Than Quality of Care
What factors affect a patient's opinion of a hospital?
Here are a few to get started
Personalized service

Admission/discharge process

Empathy of the staff

Hospital setting, cleanliness, and appearance

Responsiveness and communication of the staff

Online reviews

Cost of treatment

Wait time

Online access to scheduling, billing, forms, etc.
And it's not just about the physicians either.
Patients form opinions based on their overall experience and that includes every staff member they interact with.
Throughout a stay at a hospital, a patient typically interacts with 50-60 employees.
Your hospital's reputation is only as strong as its weakest link. Just one bad interaction with a staff member can sour a patient's view of your entire organization.


Building, testing, and refining your standard operating procedures for patient interactions leads to consistency and quality.
Speaking of consistency and quality…
Hospitals aren't popular with most people.
From the patient's perspective, hospitals are often considered unreliable, confusing and expensive. For most Americans, the healthcare system as a whole is often seen as focused on increasing profit by blocking access, and cutting quality, all at the cost of the patient.
According to the US Customer Satisfaction Index, hospitals as an industry ranked 27th out of 31 industries with a 67% overall patient satisfaction rating.
For some perspective, that means hospitals ranked below the tobacco industry and just above the IRS.


Clearly, there is plenty of room for an increased focus on improving patient satisfaction in hospitals.
Measuring patient satisfaction for quality improvement can highlight pain points and help reveal solutions. Patient experience data collected through internal feedback request systems could be used to benchmark the effectiveness of hospital operations, increase reimbursements, assess staff and patient interactions, improve overall reputation, and so much more.
---
Don't Wait to Build Your Hospital Reputation Management Strategy
Building and protecting your hospital's reputation is an ongoing process but with the help of reliable software and tools, it doesn't have to be daunting.
These days reputation management isn't an innovative perk, but a basic necessity for healthcare organizations.
Putting off or minimizing efforts on your hospital's reputation management means you're allowing your competition to take the reins. An automated tool such as MedRev can be an effective way to gather and resolve negative patient feedback privately while encouraging your most satisfied patients to leave public online reviews. With the proper hospital reputation management and feedback collection and response methods, negative patient feedback can become a positive experience for your organization.
It's not too late! Improve your hospital's online reputation by collecting patient experience data and encouraging great reviews.
Learn more about MedRev, the only reputation management system built for doctors by doctors.