Is your Social Media Strategy Helping or Hurting Your Hospital's Reputation?
It's no secret, Facebook, Instagram, Twitter, and YouTube are hugely popular, and they aren't going away any time soon.
According to The Pew Research Center, more than 2/3 of adults in America use Facebook as of 2018 and about 3/4 of those with an account use it at least once a day. And Youtube? It's even more popular.
Social media is the perfect place for sharing quirky pet videos, but is it actually helpful for your hospital's reputation?


Only if you want to:
Build trust and credibility with your patients and the community.
Engage with top-rated physicians, nurses, hospital administrators, and other healthcare professionals.
Educate your patients and community with the healthcare information they are looking for.
Gain new patients with a positive first impression.
Collect valuable reviews and feedback from your patients, community, and referring physicians
Have a place for people to find information about your practice, besides your website
Give people an easy and familiar way to recommend your hospital to someone.
Improve your brand awareness and SEO.
If any of those are important to you, then your hospital's social media strategy should be too.
We're going to show you how to incorporate each of these 8 social media strategies into your master plan for world domination – or hospital growth…let's stick with hospital growth.
Did you know? A recent survey by PWC revealed that 42% of people said social media would affect their choice of a specific doctor, hospital, or medical facility.
You can easily improve your hospital's online reputation by encouraging more patient reviews and gathering patient experience data automatically.
Learn how MedRev improves your hospital's reputation and patient experience.
---
Is There a Reason Why Hospitals Aren't Using Social Media?
Out of the 5,624 hospitals in the United States, only 1,501 are using a form of social media, which equates to only about 26%.
With all the reasons hospitals should be on social media, there are just as many reasons that they aren't actually using it.
They equate social media with entertainment, so it's not seen as professional.
They don't have a social media manager on their team.
They don't see the value social media can provide.
Business is going pretty well, and they don't want to rock the boat.
They don't know how to build a social media strategy that will benefit their business and their community.
Social media is for dogs with donuts on their heads and that's going to attract ants.


The good news is that none of these obstacles are terribly hard to overcome. In fact, most of the reasons why hospitals aren't using social media will be resolved right here in this article, so let's jump in!
If you're looking for ways to improve beyond social media, check out our article: Hospital Reputation Management Strategies for Success.
---
Strategies to Build Trust for a Hospital Using Social Media
Your social media sites need to represent your hospital in the best way possible and there are several things you can do to present your hospital in this way.
Use authentic professional photos.
Stock photos might look pretty, but most people recognize that they are not actual images of your hospital and staff.
Implement a set of legal guidelines for patient privacy, confidentiality, and HIPAA compliance.
The most important thing you can do to make sure your hospital's reputation doesn't take a nose-dive because of your social media accounts is to build and enforce policies and legal requirements that clearly state your social media guidelines.


Confidentiality and information security are of the utmost importance for a hospital so make sure you're not leaving your sensitive information vulnerable. Try these 12 Ways to Prevent a Data Breach.
Keep your reviews front and center.
Reviews are a big part of what people are looking for and Facebook is one of the most popular places for patients to check reviews.
How many patients check reviews?
According to a study from SoftwareAdvice.com, more than half of patients check reviews at least some of the time.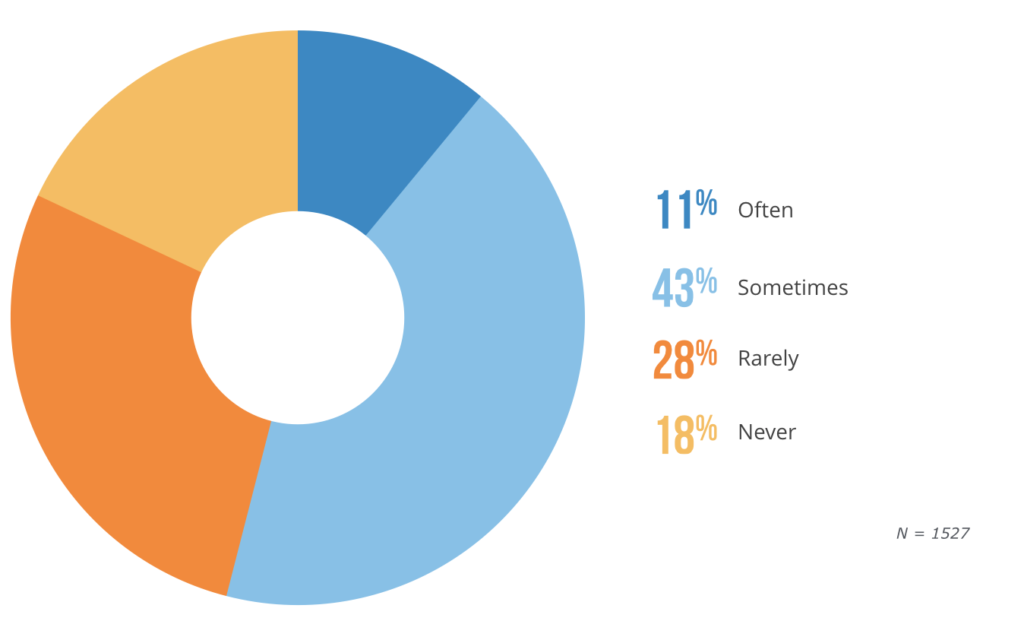 Respond to every online review you receive.
Whether you get a raving advocate or a grumpy grump on a rampage writing you a review, you should always respond.
Responding to negative patient reviews might not be the highlight of your day, but it can make a big difference to your hospital's reputation.
When you respond to a bad online review in a sincere and professional manner it lessens the negative impact that review has on peoples' opinions of your hospital.
65% of patients feel it's at least moderately important for a doctor to respond to bad reviews.
---
Engage With Top-Rated Physicians, Nurses, Hospital Administrators & Other Healthcare Professionals
Your hospital's social media strategy should focus on staying engaged with patients, but there's so much more it can do for you. Posting high-quality information on Facebook and Twitter can keep physicians engaged and connected with one another which helps build a strong network.
It's also a powerful avenue for attracting and maintaining relationships with referring physicians.
If more referrals would be a major win for you, check out our article on 7 Ways to Get More Physician Referrals
Not convinced that doctors are listening?
60% of physicians say one of their main activities on social media is following what colleagues are sharing and discussing.
---
Use Social Media to Educate your Patients and Community
Patients come to you for healthcare advice and social media is a great place to share helpful information. From blog posts to infographics to videos to statistics, there are endless possibilities. The more valuable content you post, the better your hospital's reputation will be. In turn, more people will seek you out as a healthcare leader in your area and share your posts with friends.
Don't have time to scour the web every day every day for accurate and powerful information to post?


Neither do we.
Good thing there are tools that can make posting fast and painless!
Systems like CrowdFire automatically collect the best content for you, so you can just pick what you like best and schedule posts to all of your social platforms in advance. It takes less than a day of work each month and costs a whole lot less than paying someone to do it all manually.
---
Make a Positive First Impression to Gain New Patients
It seems like everyone is on social media these days and that means patients expect their healthcare providers to be there too.
If potential patients see you're not on Facebook or you've never tweeted, they may conclude that you're in the dark ages and that's going to be a big hit to your hospital's reputation.
We don't have hard numbers, but we're fairly confident that people prefer electricity and air conditioning with their healthcare (and internet and social media.)


But it's not enough to just be there!
People that have never been to see you in person will still see you online and it will influence their decision on what hospital to choose when the time does come. First impressions can be hard to shake, so make sure yours is a good one by committing an ongoing effort to your social media presence and online reputation.
BUT Patient Retention Should Still Be Your Main Focus!
New patients are great, but obtaining new patients as customers is 5 times more costly than retaining an existing customer base. Not to mention that your current patients rely on you for their health, so they should always take center stage.
Give your existing patient base a reason to stick with you with The 8 Most Effective Patient Retention Strategies.
---
Collect Valuable Patient Reviews & Feedback From Your Community & Referring Physicians
Online reviews are not only helpful as a nice boost for your hospital's reputation, they are quite valuable to you internally as well. By monitoring each online review as well as your overall online reputation you can better understand your patients' experience and identify areas for improvement. Facebook reviews are a great place to start, but social media provides insight into your business beyond reviews.


See what others are saying about you on your Facebook wall, through @mentions, and #hashtags to get a better idea of online conversations.
Search your business on Google every so often to make sure you're not missing articles, or posts to other platforms you might otherwise miss.
Facebook also gives you a chat option which can improve communication and help you collect feedback that people may not want to share publicly.
---
Have a Place for People to Find Information About Your Hospital, Besides Your Website
People are Googling you to find your phone number, address, and more, but they are also using social media platforms like Facebook as search engines. If your hospital doesn't have a Facebook business page those potential patients' searches will come out empty-handed.
Your hospital's social media strategy should include checking your social media information regularly to make sure everything is up to date.


Even if your phone number and address never change, Facebook does so it's important to check in every month or so to see what new options, policies, or requirements they may have added.
---
Make it Easy for People to Recommend Your Hospital With Facebook Sharing
Sharing is caring and social media is a familiar way to get the word out. When someone is happy with their healthcare experience they want the people they care about to know about it. As your hospital's reputation grows, so will the number of patients referring you to a friend online.
Just by being on social media you're making it easier for your advocates to recommend you to one person, or everyone they know with a simple click of the mouse.
What's more, people are often asking their friends and family for advice on healthcare online which is all the more reason for someone to recommend you on social media.
How's that for advertising?
---
Improve Your Hospital's Brand Awareness & SEO
Finally, putting your hospital on social media sites improves your SEO. It's not just patients that check out your online reputation, Google is looking at you too.
When search engines see you're well represented across several social media platforms, that leads to you having a higher ranking when people are browsing for a hospital online.


Increasing the visibility of your name, logo, and website makes your hospital stick out in people's minds so you're more recognizable and well-known online and off.
---
Your Hospital's Reputation Depends on your Social Media Strategy
Keeping a close eye on your hospital's reputation is crucial for ongoing success. Listening to your patients on social media is an extension of the quality of care you provide at your physical location.
People all over the world are talking about healthcare on social media sites and it's time to join in the conversation.
These strategies to build your hospital's social media strategy will ensure that you are starting off on the right foot, and stay headed down the path toward a bright future for you, your staff, and your patients.
Want to automatically encourage reviews on social media, gather patient feedback, and track your reputation?
Learn more about MedRev, the reputation management software built for doctors, by doctors.