Temperature Tracking For Visitors & Employees
Temperature tracking for visitors, employees, contractors, and deliveries to ensure HR policy management, manage employee Covid-19 infection tracking, and keep your team and organization safe.
Manage All Types of Visitors

Track every visitor that enters your facility and log their temperature as well has who they are visiting. Add Experience Manager to TempTracker easily send surveys to visitors to track their experiences

Team members can log in to see their recorded history, as well as answer recommended questions, prior to arriving at work.

All types of delivery workers and contractors are managed with temperatures recorded. There are no extra costs for deliveries or contractors.
Never let another Covid-19 infected or high temperature into your facility without your knowledge by requiring front-desk or entry staff to log temperatures of every entrant for your review. If an entrant does not meet standards, they will be automatically notified of their next steps.
Automatically Build Reports
No more copying from paper notebooks to gain insight on temperatures and Covid-19 infections! Automatically build reports on employees, staff, and others and automatically export to a CSV file in less than a minute. 
Assist In Contact Tracing
Know who visited which resident, patient, or person within a facility, their temperature, if they had a known infection or if an infection was discovered. Trace Healthcare Acquired Infections (HAIs) with the help of TempTracker and your Infection Preventionists. 
CDC Questions & Temperature Tracking

CDC, State & Local Travel & Covid-19 Questions
CDC and CMS questions are kept up to date to ensure you are compliant.

Temperature Management & Overrides
In certain situations, Covid-positive individuals must be given access to the facility, this can be done with manager overrides.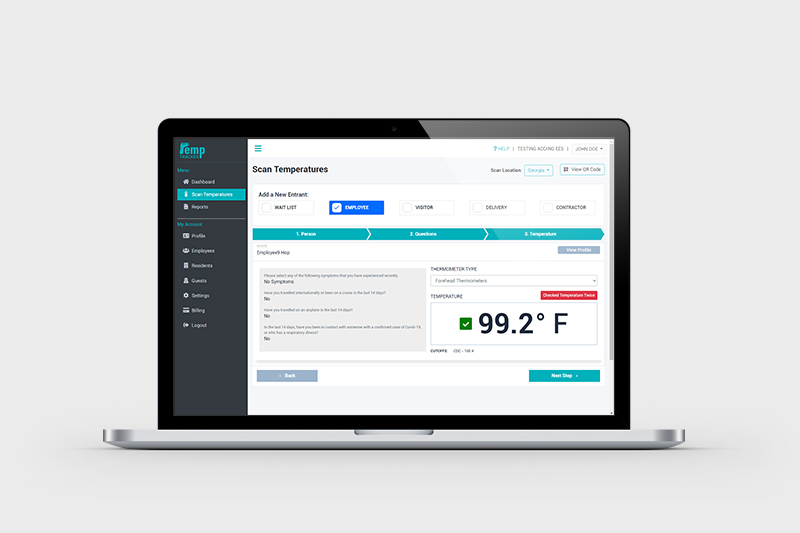 Built With Ease Of Use In Mind
We know that you and your team are busy. So the TempTracker system was built to require little to no training and to work automatically wherever possible.
With a simple and intuitive interface, even the least tech-savvy users can use the 3-step system to find or add visitors, staff, deliveries, and contractors.
Temperature Tracking Features
Manage HR policies, keep your residents and team safe, and report on staff and visitor Covid-19 cases and temperatures to local, state, and federal authorities.

Reporting
Reports can be produced based on date range, group, location, department, infection, and more. 

Covid Tracking Management
Team members with confirmed cases of Covid-19 can be easily tracked and managed.

Employees & Staff
Team members can answer the recommended questions prior to arriving at work or complete the steps at check-in. 

Visitors
The system tracks all visitors, recording residents or team members they visit. 

Locations
Unlimited locations for facilities can be added to the Temp Tracker system.

Departments
Team members can be assigned to departments to quickly group entrants in larger facilities. 

Notifications
Team members and their managers can receive email notifications of all tracked events.

Management Levels
Management can easily assign levels of access within the Temperature Tracker system.  

Fast Find
Team members, residents, patients, and visitors can easily be located within the system.